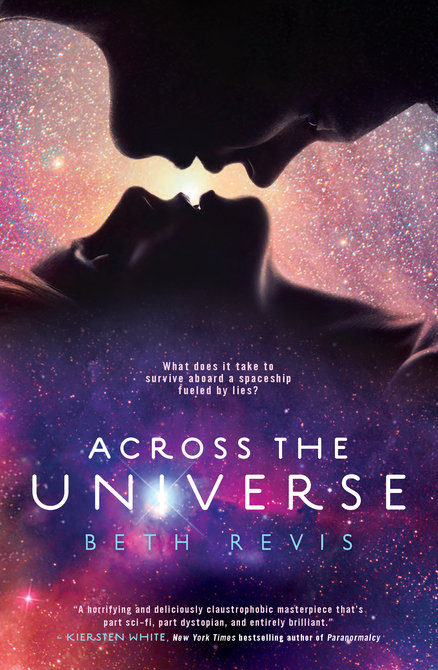 Título: Across the Universe
Título Original:Across the Universe
Autor(a): Beth Revis
Editora: razorBill
Nº de páginas: 398
Preço médio: 7,08€

Sinopse (goodreads):
AMY
has left the life she loves
for a world 300 years away.

Trapped in space and frozen in time, Amy is bound for a new planet. But fifty years before she's due to arrive, she is violently woken, the victim of an attempted murder. Now Amy's lost on board and nothing makes sense - she's never felt so alone.

Yet someone is waiting for her.
He wants to protect her -
and more if she'll let him

But who can she trust amidst the secrets and lies?
A killer is out there - and Amy has nowhere to hide...

Opinião:
Depois de ter ouvido tão boas reviews deste livro por tantos blogues estava realmente à espera de mais. Não é que a história não seja boa, eu é que não consigo perceber o tão grande burburinho que este livro tem causado.
Gostei do universo que a autora criou e achei-o muito mais original do que o de muitos livros que tenho lido recentemente, mas não consigo dizer que me tenha sentido presente na acção.
Quanto aos personagens, apesar de compreender aquilo pelo que estão a passar, e de haver uns quantos memoráveis, não conseguia preocupar-me verdadeiramente com aquilo pelo que passavam. Resumindo, não me tocavam pessoalmente, não havia nenhum com que me tivesse identificado e criado alguma empatia.
Apesar de não ter sido dos melhores livros que li nos últimos tempos, quero ler o segundo volume, simplesmente para descobrir o que ficou por dizer neste livro.
Para mim, a grande falha neste livro, é que ele quase parece a introdução, porque pouco acontece, e o que acontece, acontece condensado nas últimas 80 páginas do livro.

Quotes:
"I never thought about how important the sky was until I didn't have one."
"This is the secret of the stars, I tell myself. In the end, we are alone. No matter how close you seem, no one else can touch you."
Desejos de Grandes Leituras
Maggie Mae Black